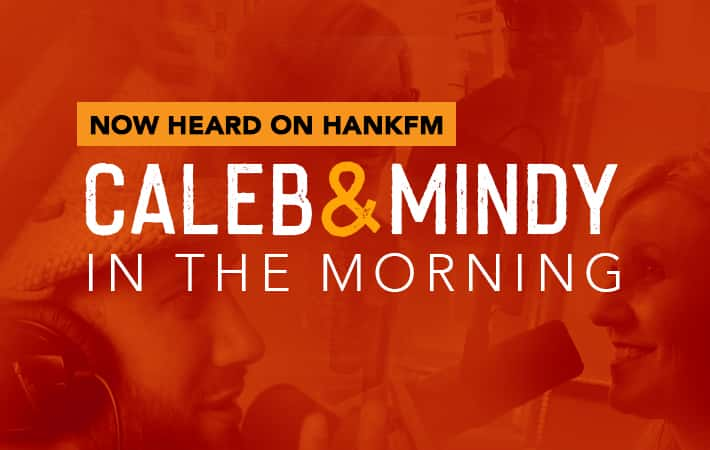 Listen each weekday to Caleb & Mindy in the Morning!
THE MOST MUSIC IN THE MORNING
Caleb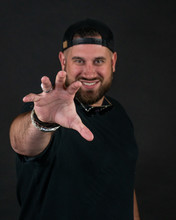 Caleb James has been in radio since he was a junior in high school and has been a part of formats such as Top 40, Adult Contemporary, Country, and Rhythmic. Caleb graduated from Specs Howard and cracked mics in Detroit, Toledo, South Bend, Lincoln, and Omaha. His programming and on-air experience ranges from heritage stations to the launching of Red 94-5 in Lincoln, NE.
Caleb grew up playing basketball and nearly played semi-professional ball before injuring his ankle. He comes from a long line of ball players including his grandfather who was drafted by the NBA's Baltimore Bullets in the 1950's. Today, Caleb enjoys combat sports such as boxing and MMA. He often trains/works out with former UFC fighter Houston Alexander. Caleb is an avid movie goer, escaping to the movie theater once a week to catch the newest flick! His favorite director is Christopher Nolan. He frequently enjoys BBQ, tacos, burgers, and is a self-proclaimed root beer connoisseur.
Mindy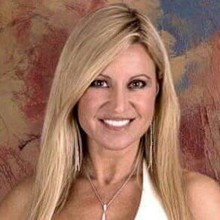 Mindy Winkler (Jarosinski) is a true Hoosier having never lived outside of Central Indiana!
Born/bred in Anderson (Madison Heights – YAY PIRATES!), she gained her BS and MS from Ball State (Chirp! Chirp!) and has lived in Fishers/Geist for nearly 3 decades!
Mindy is also a former Indianapolis Colts Cheerleader—during Peyton Manning's first 2 seasons!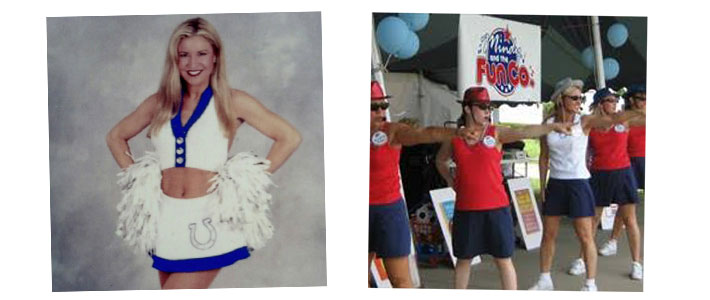 Pictures of Mindy Winkler as Colts Cheerleader and FUNCO
Mindy got her start in radio as an award-winning traffic reporter for nearly a decade and later jocking Saturday nights on our sister station, B105.7! Prior to radio, Mindy was the WB4 on-air TV Kids Club Host "Commander KC." She also created/led an award-winning song/dance program Mindy and The Fun Company, touring the Midwest entertaining/educating children on various issues. The group was honored with feature articles in Ball State Alumnus magazine and in Indpls Business Journal's "Women in Business." Mindy was also the host of "Real Scene TV" – an "Access Hollywood"-type show about all things Indy on WTHR Channel 13 and has emceed many prestigious events in the community.
Mindy is married to her wonderful husband Bob and is the very proud mom of her son, Garrett and her 3 stepsons, Dustin, Brady and CJ.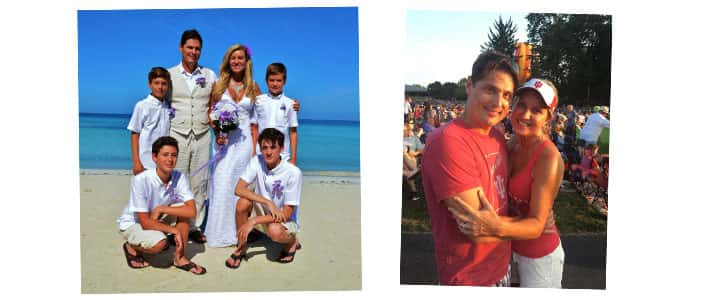 Mindy Winkler with her family
Mindy loves running/weight training, but also loves chips/salsa and beer! She can quote movies of nearly every genre, is a giant Seinfeld fan and loves binge-watching Netflix. Mindy loves traveling, boating, and attending concerts and sporting events. Mindy "doesn't know a stranger" and is grateful to spend the mornings doing what she loves while sharing that time with our awesome HANK listeners!